Premium pet food made from ethical ingredients
We believe that fresh nutritious pet food can have a higher mission.
Our vision is to end Factory Farming and your pet can play a big role in making this a reality.
By feeding Frontier Pets food, you are directly and indirectly supporting animal welfare. Made from 100% free-range protein and organic produce sourced directly from Aussie farmers practicing sustainable agriculture, your pet can change the world one bowl at a time.
So far we've spent...
ON SUSTAINABLY FARMED PRODUCE
Our best sellers
Meet the better, more ethical pet food. Using 100% whole of life free-range produce that directly supports Aussie farmers practising sustainable agriculture.
Meet our founder
"I have been supporting sustainable farming and animal welfare for as long as I can remember. These issues are always front of my mind when I buy things for myself. When I realised these same choices were not available for pet food, I decided to make one. Now our pets can become part of the solution and they can literally change the world."
Diana Scott, Founder, Frontier Pets
Your pet can change the world
Millions of meals, thousands of delighted customers
"Willow and I recently went camping and had the best time.
I wasn't sure what to pack for her dinners as she eats raw, and I didn't want to be bringing raw food with me travelling. We had heard about Frontier Pets, so we did an order a month before our trip to test it out and Willow loved it! (So did Patch and Luna)

The bags are super lightweight, hold a lot of food cause you rehydrate with water when serving and don't require being refrigerated - PERFECT for camping 😍

Highly recommend for your next camping trip! We will definitely be packing Frontier Pets for our next trip!" - Courtney


Unfortunately Pearl struggled on and off with tummy upset issues from the day she came home. A diet based on kibble - even top-rated kibble - just didn't agree with her. It got to the point that she'd rather starve than eat it.
That all changed the day we found Frontier Pets.

Frontier Pets has changed Pearl's life for the better. Not only has the Frontier diet completely solved Pearl's tummy issues, she absolutely loves it - all three flavours - and she now begs for her meals.

As her human mum, I love that Frontier Pets is Australian-made, human-grade, ethically produced, and provides Pearl with a complete, well-balanced diet. It smells great too. We couldn't be happier with Frontier Pets. - Jane
We are a 4-cat household, and have been waiting patiently for the cat-version to be available!
Our trial bags arrived a week ago, and it's a hit! Creamy (pictured) was so excited, he ran off with the bag before I could open it.
The other 3 are equally impressed.
Thanks Frontier, we are thrilled to have an ethically-sourced, nutritious cat food available, which also has minimal packaging waste (and no more smelly bin!) - Monica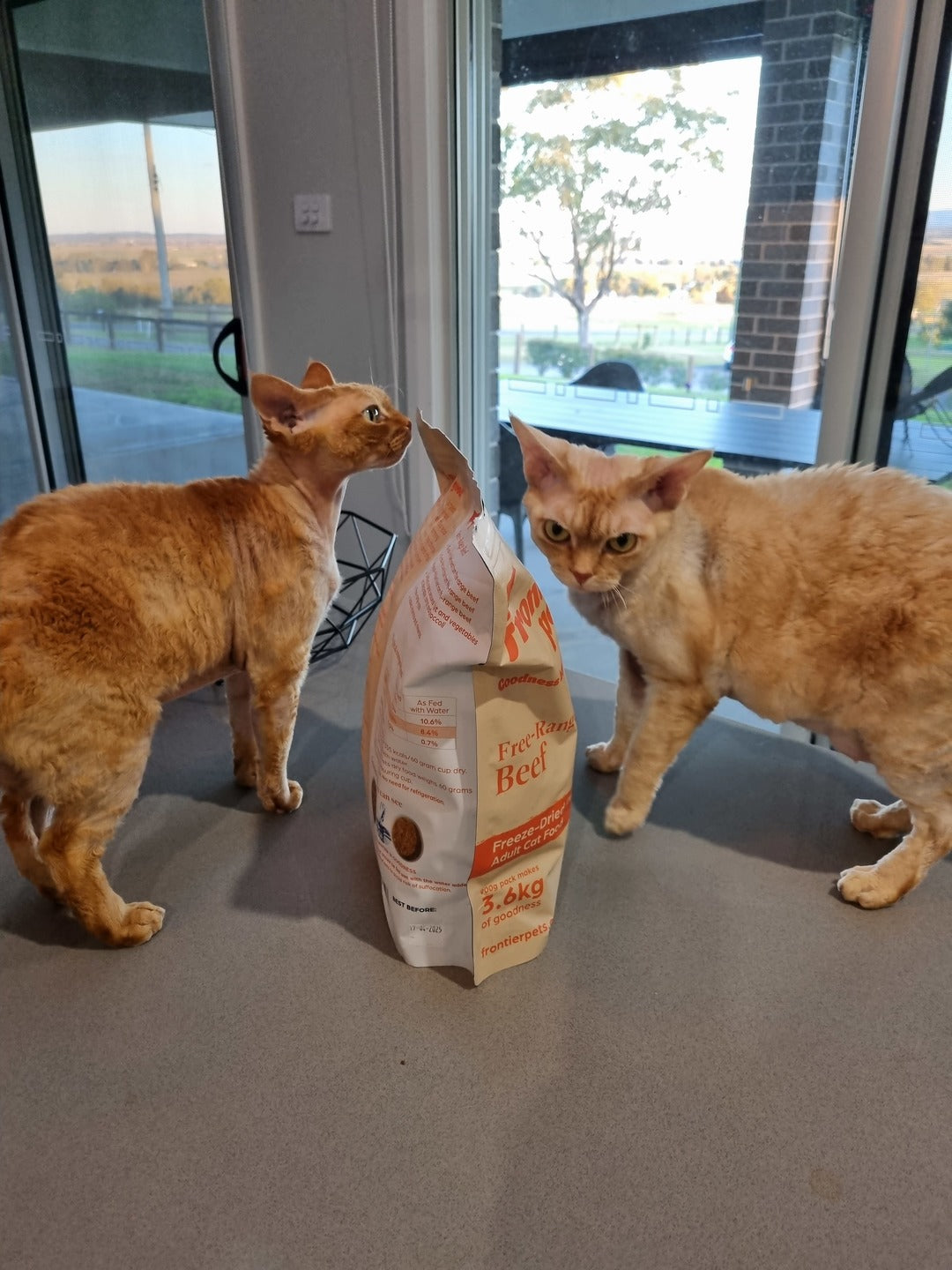 I have 5 cats and have tried pretty much every brand of freeze dried food. All my cats love it and the fact it softens so quickly in water, it is convenient to feed on its own or mixed with raw meat. It is rare to find a food that all 5 will eat. It is a quality and I will certainly be a repeat customer. - Gillian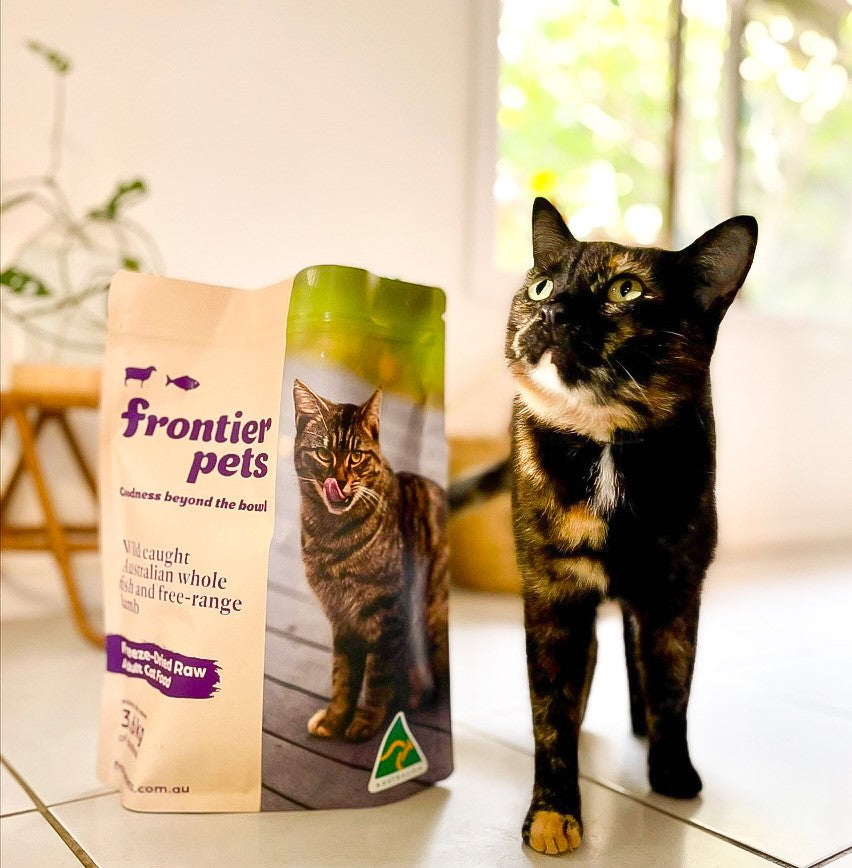 Cat food now available in trial pack size.
It's here!  Now you can get a smaller, 300 gram pack of our new free-range, freeze-dried cat food.  See Di talk about it for just a minute... This new size is perfect to trial for those of you...